Message from TSC's Director of Education
I am excited about my opportunity to be part of the future lives of the students at Toronto Scholars Collegiate. The founding of a new school is especially important and significant to me. I have, over my teaching career of 45 years, been very fortunate to help build educational establishments and environments which have endured the test of time and have continued to positively influence the lives of many children.
Each year, I have observed that each new student entering a school brings their unique and wonderful talents to the school. It is true that the student is better because of his or her time at TSC but what is also true is that TSC is made better by its students. In fact, I know that Toronto Scholars Collegiate measures its success by the successes of each and every one of its student.
Over the years, many, many students will graduate from TSC and will be proud and honoured that we have had a part in their accomplishments both now and in the future. Just as children honour their parents with good, productive and successful life, so too, do the students of Toronto Scholars Collegiate bring honour and prestige to TSC.
To have the opportunity to help build an educational environment such as TSC, in which children grow, learn and become leaders of tomorrow, is the most wonderful opportunity for which I am eternally thankful.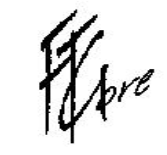 Frederick Gore
Director of Education
Toronto Scholars Collegiate